Wooden, PVC or aluminum baseboards? It shall suit your environment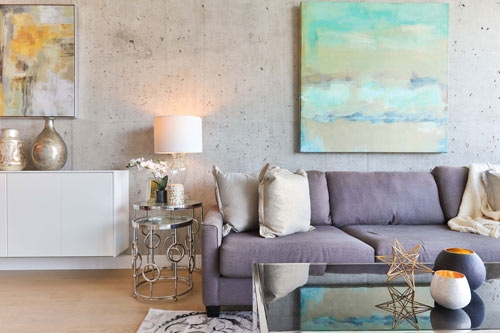 A baseboard is an element of both functionality and design within the home. It protects the walls and at the same time provides an element of color and continuity. According to the room and its function, the market offers endless solutions in terms of shapes, materials and finishes. The most popular include steel, aluminum, PVC or traditional wood.
Innovative materials for modern baseboards
In a public or commercial area, indoor or outdoor, the world of baseboards is wide and offers endless materials to meet every need, each of them has specific features making it unique and suitable for a specific environment. Let's take a look at the most common materials:
Long-lasting stainless steel baseboards
Stainless Steel is a material resistant to chemicals and environmental agents, which is why its use for baseboards is mainly aimed at public and commercial areas, undergoing frequent and more invasive cleaning procedures. Its use is recommended in areas with high humidity. Its finishes usually include polished, brushed or sanded. (BA SKIRTING BOARD)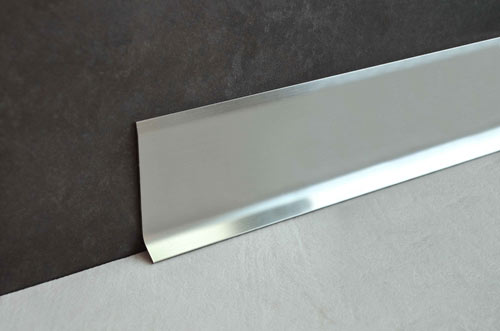 Aluminum baseboards to combine highly aesthetic finishes
Aluminum baseboards are the perfect combination of quality and aesthetics. Its high workability makes it possible to create a wide range of different shapes and thicknesses. Its properties also make it an excellent material to use outside and its chemical composition makes it customizable with endless colors, finishes and processes. See these solutions.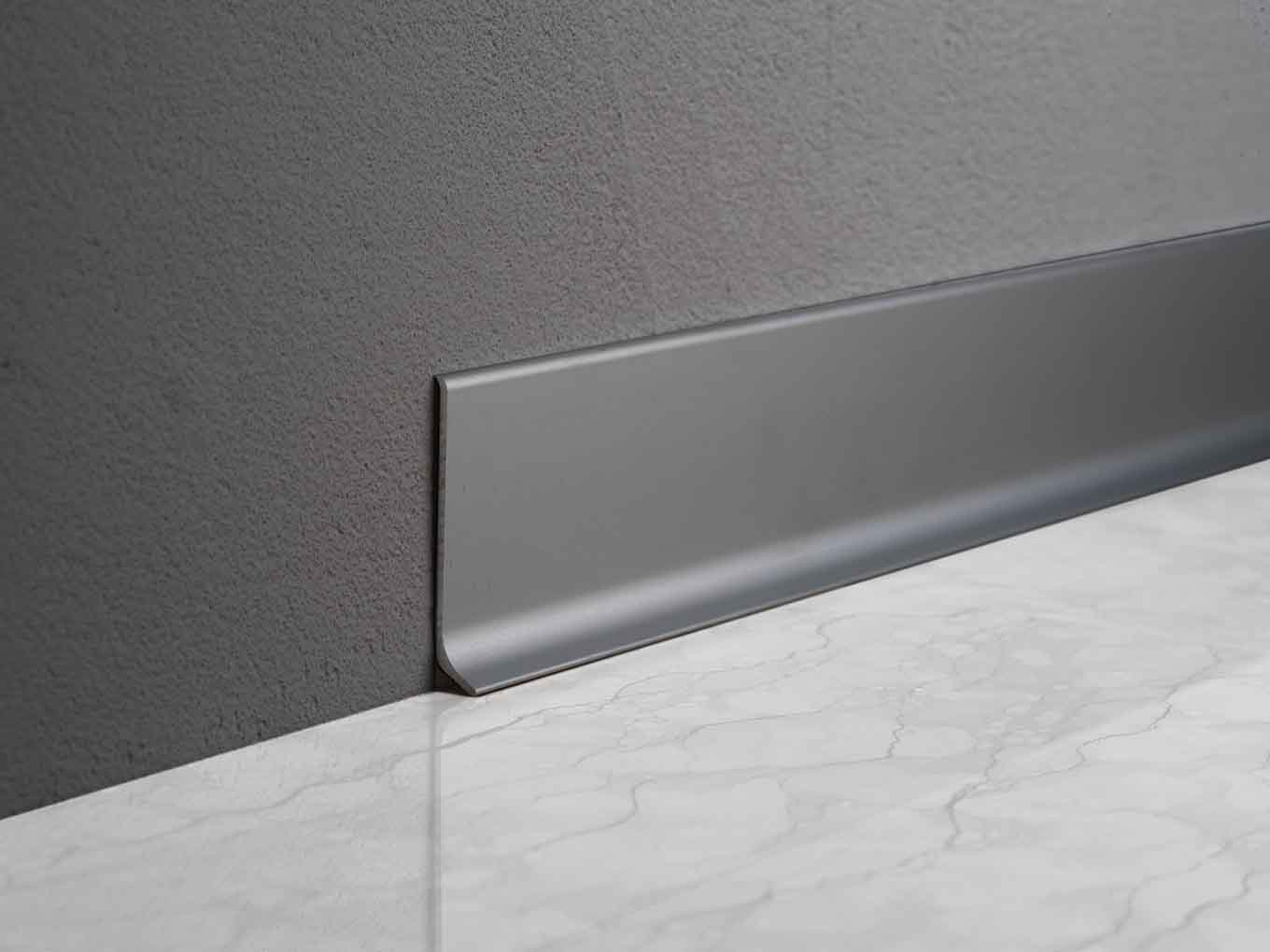 Functional and economical PVC baseboards

A PVC or plastic baseboard is the perfect solution if you want a product to be both functional and economical. This material resists mold and humidity, chemicals used for cleaning, it is self-extinguishing and wear-resistant over time. PVC baseboards also have an endless range of colors making them versatile and customizable as desired. Discover our PVC baseboards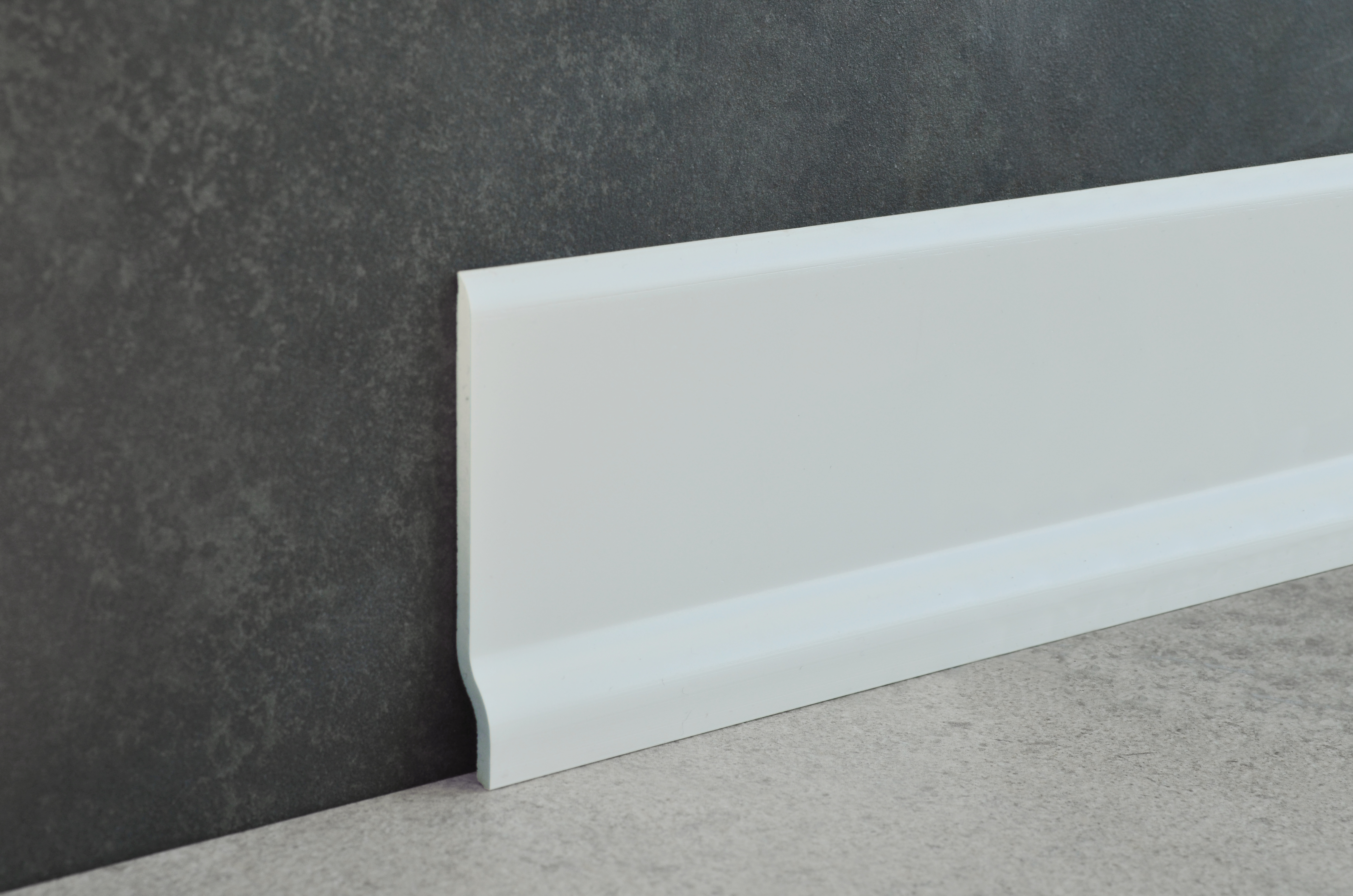 Classic delicate wooden baseboards
When we talk about baseboards, usually wood is the first material that comes to mind. It was the first material used since the creation of baseboards as, until a few decades ago, it was usually combined with doors and windows. Now the market is certainly wider but many still prefer the traditional look that only this material can offer. There are several solutions according to the look we want our room to have: there are boards in natural or coated wood, which are more expensive but truly wonderful to look at, or there is a cheaper but more diversified solution, textured aluminum with a wood grain finish.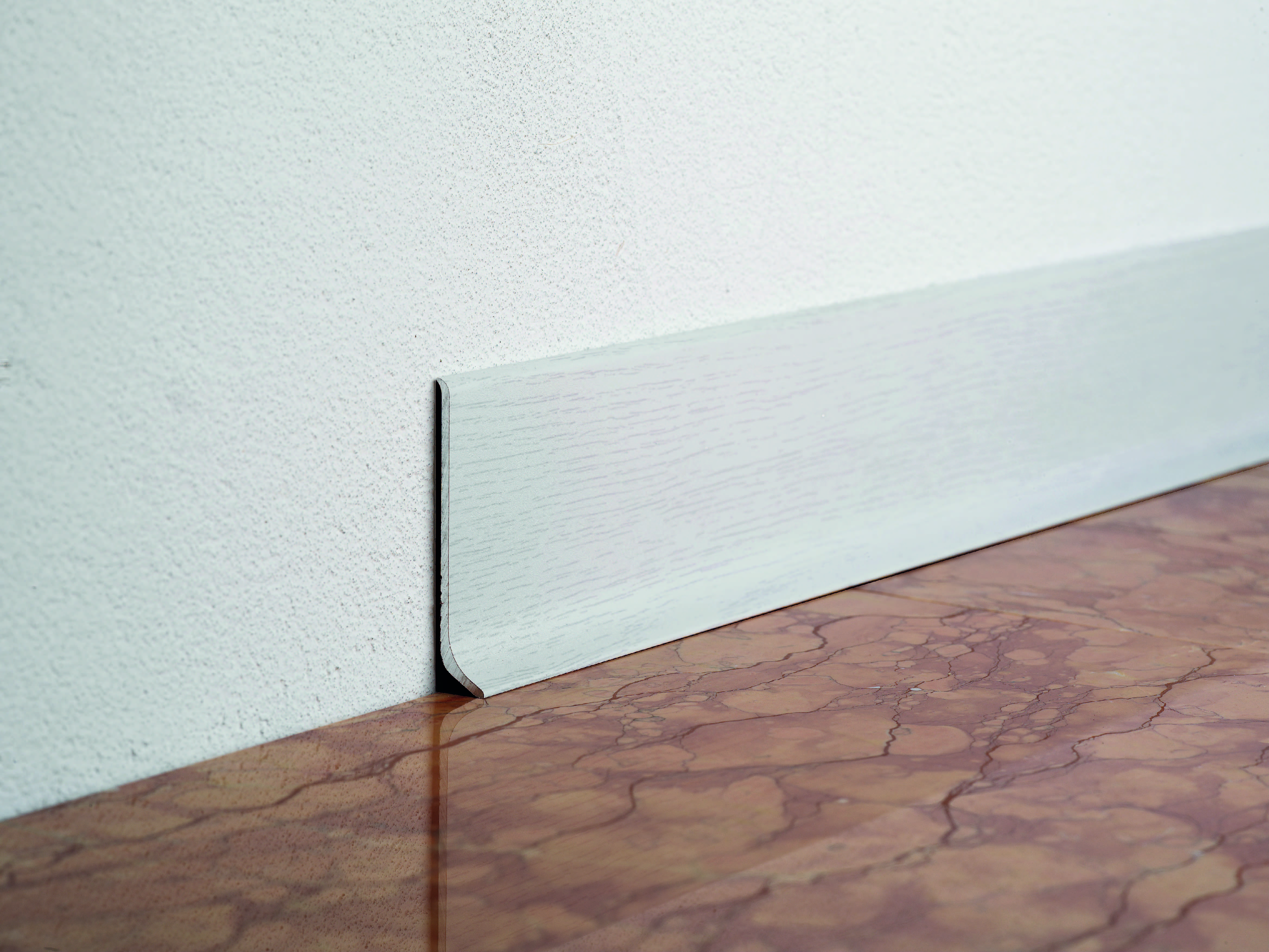 Finishes to make the most of baseboards in modern environments
Modern baseboards, besides coming in different shapes and materials, also offer a wide color range. According to the material, there may be different shades, glossy or matt, neutral or colored. Let's see a few examples:
Usually, when you want a steel baseboard, the color range is quite limited. This material mainly undergoes a very light finishing processing. You may have it polished, with bright and marked reflexes; brushed, for a modern and captivating effect; or sanded, for a soft and delicate line.

If you choose aluminum, the range of colors and finishes is much wider. Its workability makes it possible to obtain hundreds of color variants without affecting its features. Aluminum baseboards may undergo several processes: they may be anodized, usually in the color of chrome or silver; coated, with an amazing range of colors, among which modern Matt White or Micaceous, until a classic Corten color; and finally wooden baseboards (or with textured coating) offer a wide range of veneers and shades recalling those of wood.

In case a lower price is required, but still with the chance to choose among endless color possibilities, PVC or plastic baseboards are the perfect solution. There are countless solutions on the market, like BA700, a versatile and resistant baseboard available in classic white, grey, black or walnut.

Another possibility is synthetic resin. Baseboards in this material are ideal where you need frequent and deep cleaning and Wallprotection WB in our range has a special feature: the possibility to customize its colors, creating a product that can be in one color or two colors, choosing from 16 different colors.
Baseboard functions that go beyond aesthetics
Baseboards, besides being finishing and detailing elements inside homes, have several technical functions. Let's go deeper:
It covers imperfections: the baseboard was actually created as an element to cover the cracks you usually find between walls and floors. The most common issue with wooden floors is that, due to changes in humidity and temperature, it may undergo slight expansions.

It protects from shocks: When cleaning your house, with brooms or vacuum cleaners, you may damage the lower part of the wall. A baseboard avoids such accidents protecting the wall and preventing it from getting dirty or suffering minor damage.

Cover joint: especially in commercial areas and in very large areas, a cover joint may be installed between walls and floors. A baseboard can act as a cover without the joint being visible.

Wires: offices and workspaces often see the chaotic presence of wires and cables, to avoid unsightly but above all dangerous situations, the issue may be solved using a baseboard for wires.

Decoration: Finally, a baseboard is a design element and its look certainly matters. On the market, thousands of models are available in several shapes, colors and finishes.
Baseboard for wires
A baseboard that has increased in popularity in recent years, especially in areas such as offices or workspaces, is the baseboard for wires. This baseboard was created with grooves in the non-visible part, where wires and cables can pass through, thus being hidden, as it happens with baseboard BIB. It makes it possible to combine an aluminum base with a top in a different color or material, thus creating a double-color effect.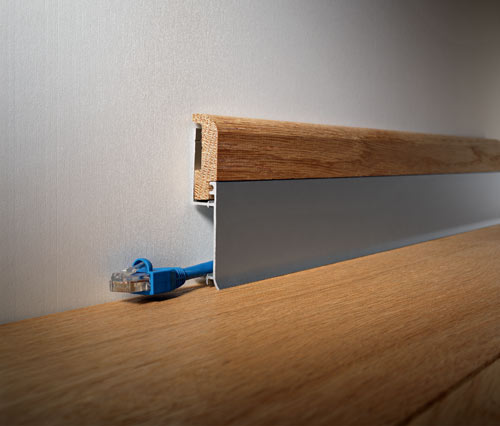 How to choose the material of your baseboard
Choosing a baseboard is fun and offers quite some freedom according to the effect you are going for. These are the most popular styles:
Matching baseboards and doors/windows: A timeless trend is that of combining baseboards with the color and material of doors and windows. You may opt for soft colors creating little contrast, or for brighter colors creating a unique and special color effect. In both cases, baseboards BA offer a wide range of shades to choose from.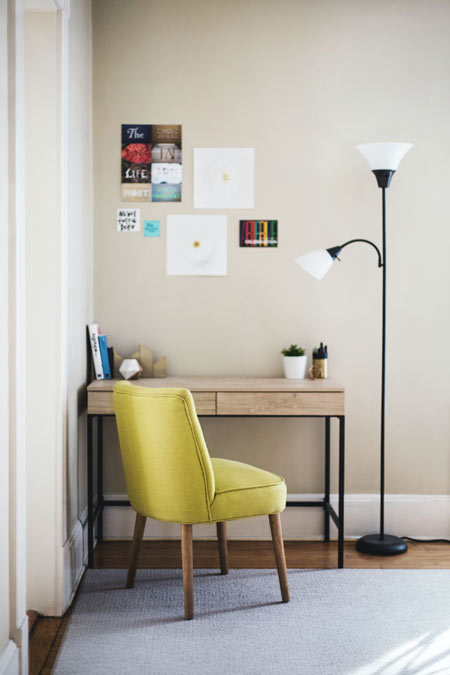 Matching baseboards and floor: In the last decade, a new trend emerged: combining the color of your baseboard to that of your floor. A smart choice which, with the right color combinations, gives a feeling of continuity to the environment. If this decision is taking during construction/renovation you may consider a baseboard flush with the wall in the same material as the floor, such as modern BFW.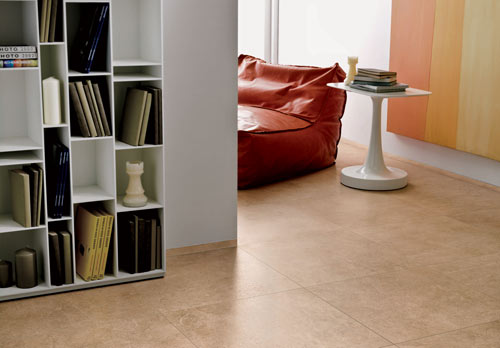 Matching baseboards and wall: Another trend born in recent years, it is very popular in areas such as clubs, stores and commercial areas. It makes the room look a little larger, and it is perfect in areas where many people gather. In this case, the best choice is baseboards with several color choices and customizable, so elements in Coated Aluminum such as BA600, or in PVC such as BA700.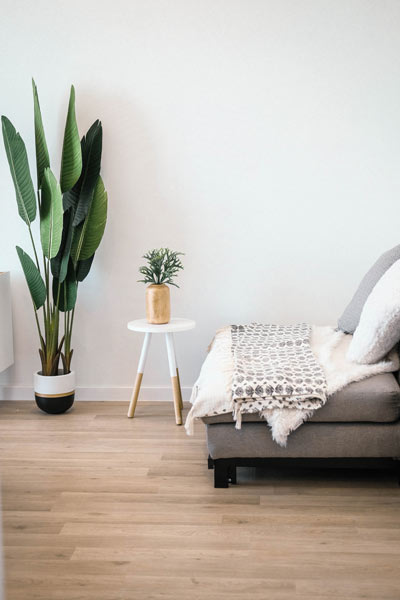 Free-style combination: these are very rare cases, where the color and material of the baseboard differs from the floor, the wall or windows and doors. A full touch of color independent of the rest of the environment. It is a new and almost futuristic style, which can easily take a leading role in alternative environments such as modern art museums or clubs.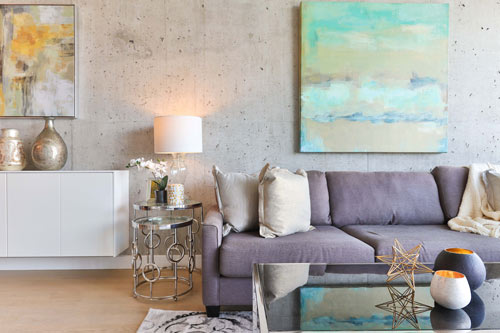 The invisible baseboard
If you want to "camouflage" your baseboard with the environment to make it less visible, there are several ways.
The easiest and fastest way is to choose a baseboard in the same color as your wall, thus creating a continuity effect with the wall.
If you want to hide the presence of the baseboard, an original solution with a remarkable look is a baseboard integrated into the wall. As in the case of PS130, it is usually installed together with the drywall and is placed in its lower part creating a small gap with the floor.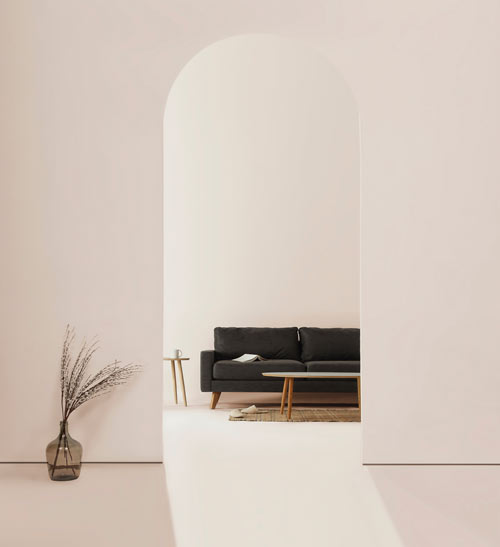 The minimal baseboard
"Minimal baseboard" designates an element with simple and linear shapes, then what product is better suited than BA400? A square baseboard, with a rectangular shape and color range that goes from classic polished or brushed silver to white, micaceous or corten coatings. It combines perfectly with any understated and minimalist environment.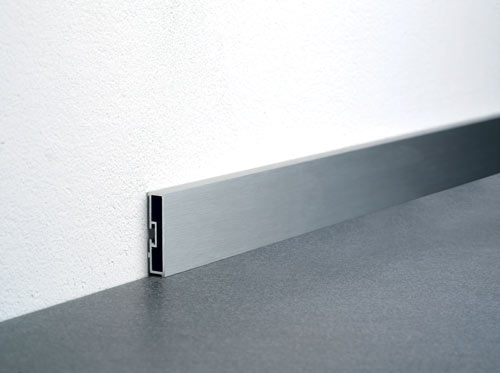 Drywall baseboard
Baseboards for drywalls are a design element that has become increasingly popular in recent years in luxury and design environments. They are simple and essential, discreet yet contemporary. The market offers several solutions, such as the Plano range, created for the installation of baseboards flush with the drywall. The models and materials available are varied enough to pursue different effects. You can have a metal baseboard, perfect for modern areas and clubs, or you can match it with the color of the floor, to give uniformity to your room, see Plano BF.
For an "invisible" and incredibly discreet effect, Plano PS130 is the perfect solution. It creates a space of around an inch between the lower part of the drywall and the floor, understated yet original.
An alternative to classic drywall baseboards is LEB, a drywall baseboard flush with the wall, conceived to insert LED strips. A simple-looking element, in anodized aluminum, easy to install, but once the lights are out it becomes the main actor in the house: a source of emotions and wonder. Its versatility and the variety of colors of LED strips make it an incredibly adaptable baseboard.
The world of baseboards is wider than you would expect, but with the right advice and suggestions, you may turn into a fully-fledged design element, concealing in the room, using it to enlarge the visual space or as a real element of detachment from the rest of the room.
Visit our website for more information on the above products or call us for advice.
Comments
There is no comment
Corner profiles and corner edges for tiles, unique installation solutions
The difference between floor and structural expansion joints