Why use joint profiles between floors made of different materials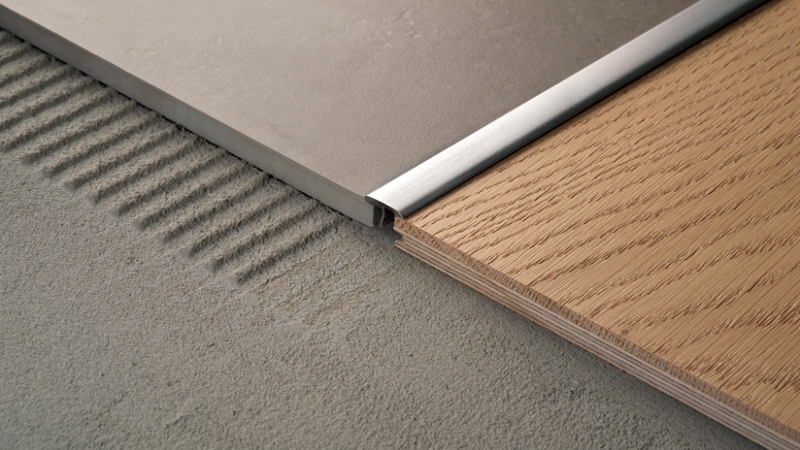 Floor joint profiles are designed to connect floors of different nature which are at the same level. They are made of several materials and finishes so that they can be easily matched with any type of floor: ceramic, marble, wood, vinyl or others. But have we ever wondered what floor profiles are used for and what their main functions are? Based on their intended purpose we have:
Let's look at them in detail.
How to select the right joint profile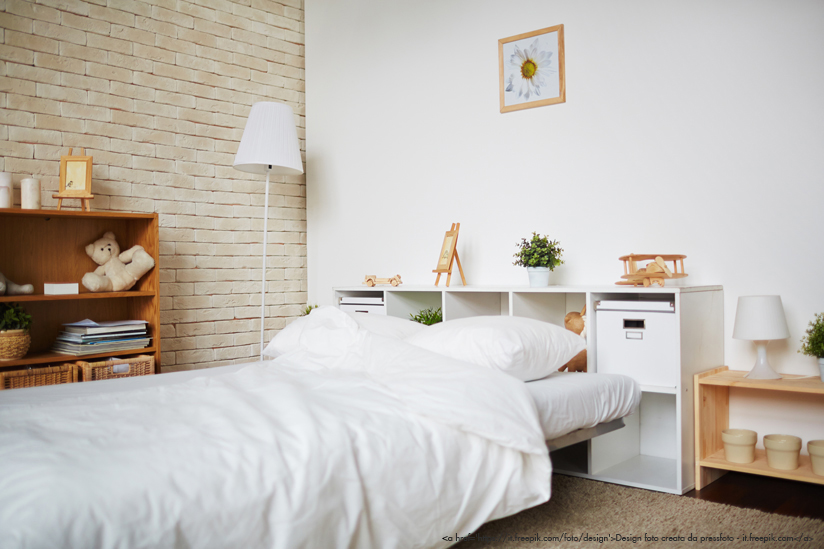 In most cases, the need to use joint profiles arises from the differentiation of the various rooms in the house for their task, for example kitchen and sleeping area, where different types of floor materials are usually used.
The most frequent combinations are:
ceramic or laminate in the living area and wood in bedrooms
ceramic or laminate in the living area and carpeting in bedrooms.
Considering that these different types of floors have different heights, the joint profile must be chosen according to the height difference to be adjusted:
laminate flooring: thicknesses between 7 to 15 mm
wooden floor: thicknesses generally between 16 to 21 mm
floor made with ceramic tiles: thicknesses from 8 to 12.5 mm
carpet: the thickness in most cases is around 10 mm.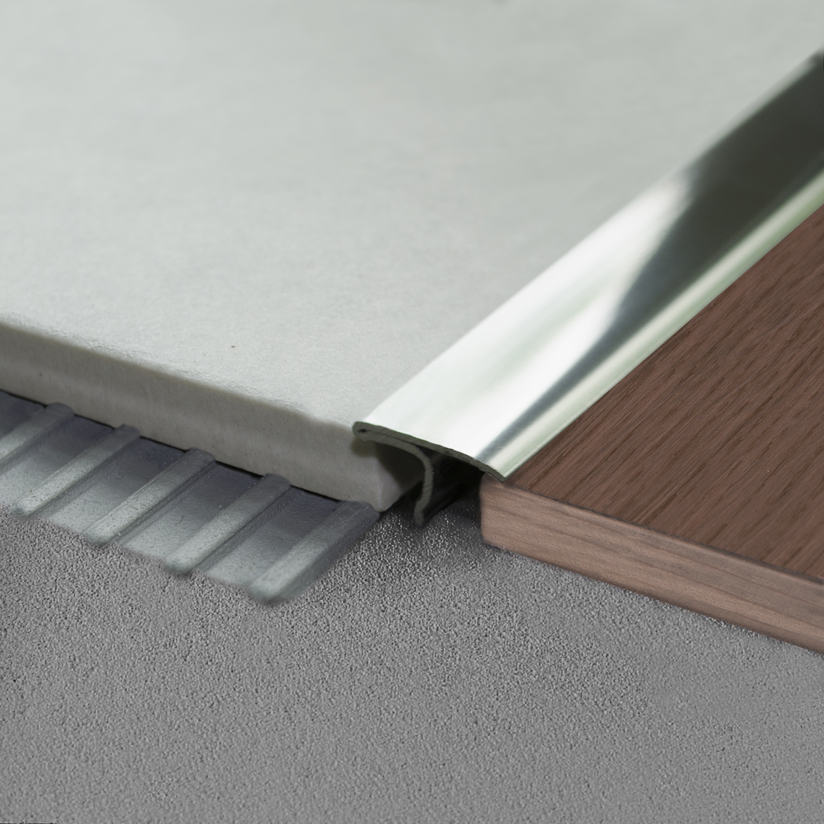 A correct assessment for the choice of the profile can be summarized in few simple steps:
if you have a gap to cover, check its width
understand the functional requirement (connection, threshold cover, expansion joint, separation, transition, etc.)
do not underestimate aesthetics: in the case of wood, correctly matching the finish and color of the profile to the flooring is vital to achieving visual harmony
Floor profiles of the same level to connect different materials at the same height
The floor joint profiles are designed to create a connection between floors at the same height made of the same or different materials. Available in various shapes, materials and finishes, the profiles for floors at the same level were designed to adapt to any environment and wall covering, ensuring installation that is functional and able to offer a remarkable aesthetic effect.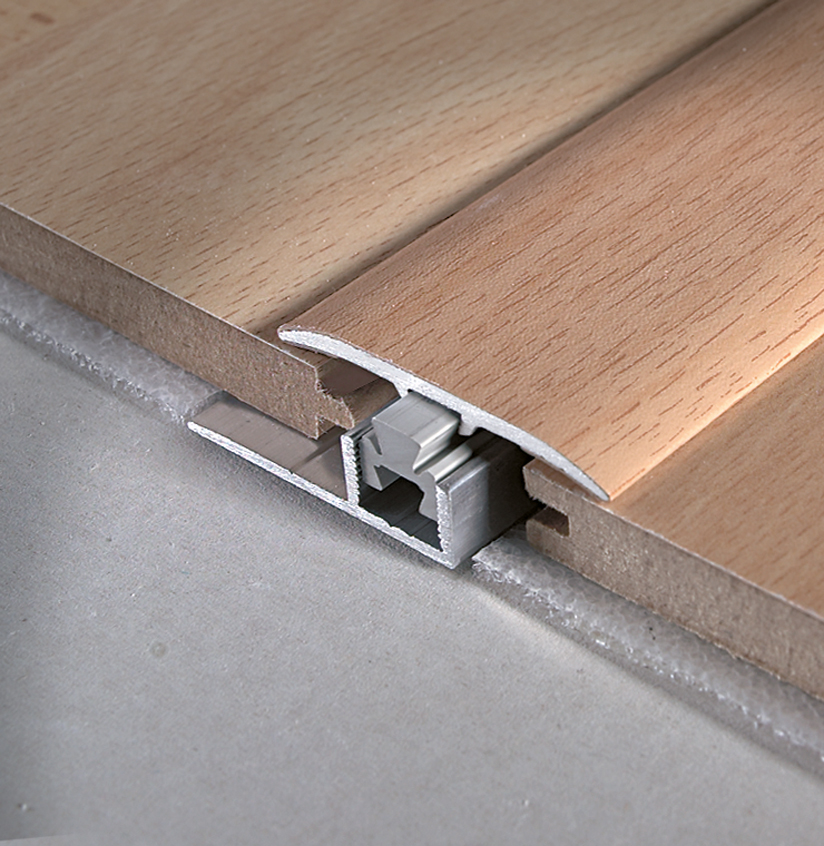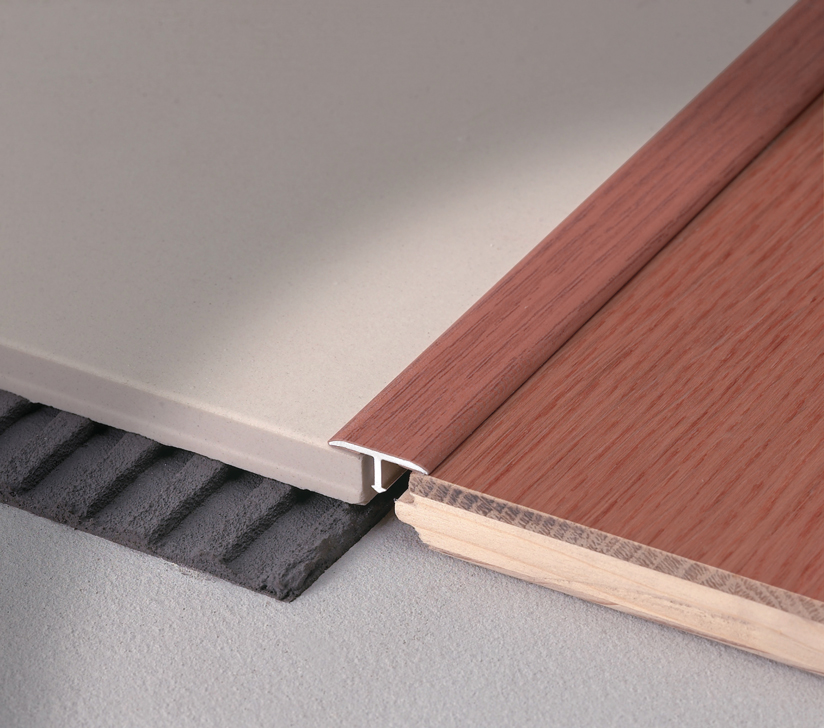 When moving from one room to another in a building, in order to differentiate the rooms and create a decorative contrast, different types of flooring are often used. If the combinations are between surfaces at the same height, it is possible to decide to use a joint profile because: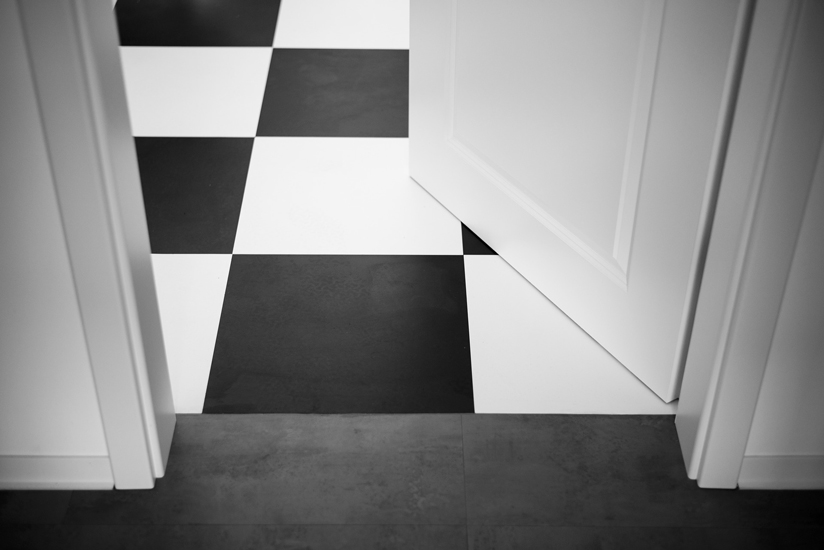 Joint profiles that act as threshold covers have the great advantage of being installed after flooring is completed. It is this feature itself that makes them stand out from the previous elements, as all the other floor profiles must be installed at the time when the floor is laid down.
They are actual closing profiles for finishing the remaining space between the juxtaposition of two floors of the same or different nature, usually in connecting two rooms used for distinct domestic purposes.
The installation can be carried out once the laying is completed in order to guarantee that the underlying coverings expand naturally, thus avoiding the risk of breakage, which is why they are also known as joint covers.
The profile par excellence that acts as a threshold cover profile and joint cover is Covertec SP available in different finishes that allow for creating contrast or similarity effects between coverings made of different materials.
Connecting floors at different heights and of different nature
The difference in level between floors has always been a potential problem in domestic, industrial and commercial buildings. The best solution for solving this imbalance between levels is the application of profiles for floors at different heights.
Speaking of a connecting function, the difference in height between different floors is intended to be only a few mm.
The Multiclip CLG system not only connects coplanar floors, but also compensates for small differences in height, up to 3 mm. It carries out this function thanks to the 3-part composition of the product:
The Multiclip system is also designed for LVT floors
Are you looking for a solution that allows you to join floors with great differences in height? Take a look to transition profiles.
The ideal joint profile for LVT or wood floors
We saw how the Multiclip - CLG system is also ideal for L.V.T. floors, low thickness vinyl, wood-like floors. Compared to classic vinyl floors the L.V.T. (Luxury Vinyl Tile) type flooring is positioned in a medium-high range both for price and quality, as the printed texture is very similar to a real wood floor.
Vinyl flooring or L.V.T. is very often used in a commercial environment, especially in offices. This type of flooring is defined as "resilient" and offers several advantages compared to a traditional wooden floor, in the following areas:
In addition to the Multiclip-CLG system, whose main function is to join floors, we also have other profiles suitable for this type of floor covering, which are suitable for other purposes including:
We have just seen the advantages of a resilient L.V.T. floor covering. So you may be wondering, why should we choose wood?
Traditional wood floors, which belong to the category of warm floors, offers a feeling of warmth, visually and to the touch. The timeless charm of wood is unmatched. In fact, those who love wood floors would certainly accept no imitation. The main reasons for choosing wood are:
Like all beautiful things, however, wood is very delicate and requires care:
Also in this case the use of a joint profile is vital. Let's see which profiles are the most suitable for wood, a noble material.
Depending on the requirement, we can divide the profiles by "after installation" and "during installation."
After-laying connecting profiles for wooden floors:
Joint profiles when laying wooden floors: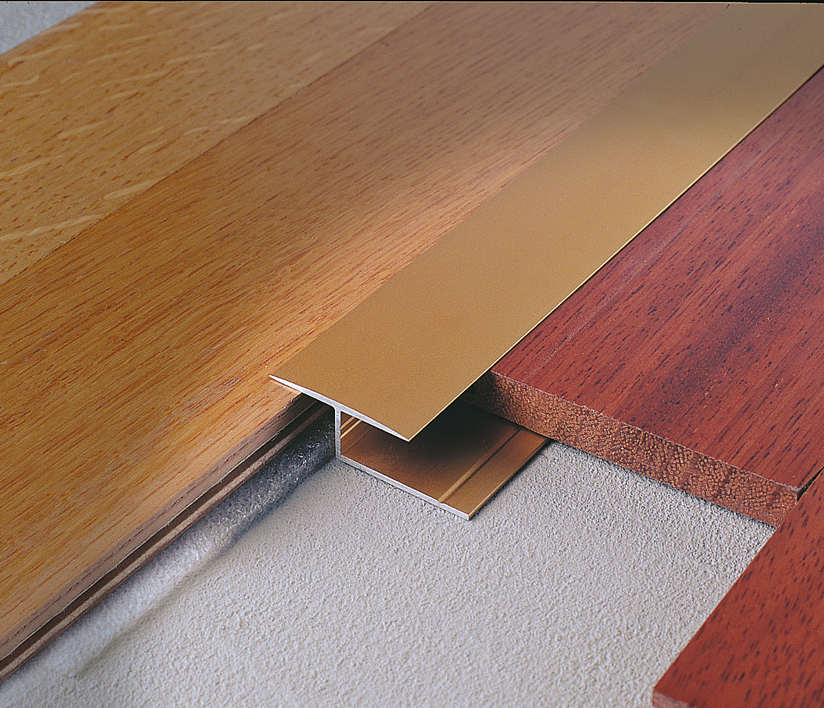 H3 Is a joint profile between parquet and tiles a question of style or does it also help to avoid other issues?
If you are a wood lover, you will have found yourself in the situation of having to join bedrooms laid with parquet to the living area laid with ceramic tiles. This is one of the most frequent cases of connection between floors of different kinds.
The aesthetic component should surely not be underestimated even in this function because:
Therefore, for more minimalist styles, we recommend the use of steel in this situation. The product you are looking for is Trimtec TR: it is subtle and, from a visual point of view, it combines the two materials with style. Available in a variety of steel finishes including the classic polished (IL), brushed (IS) and refined sandblasted (IX) finishes.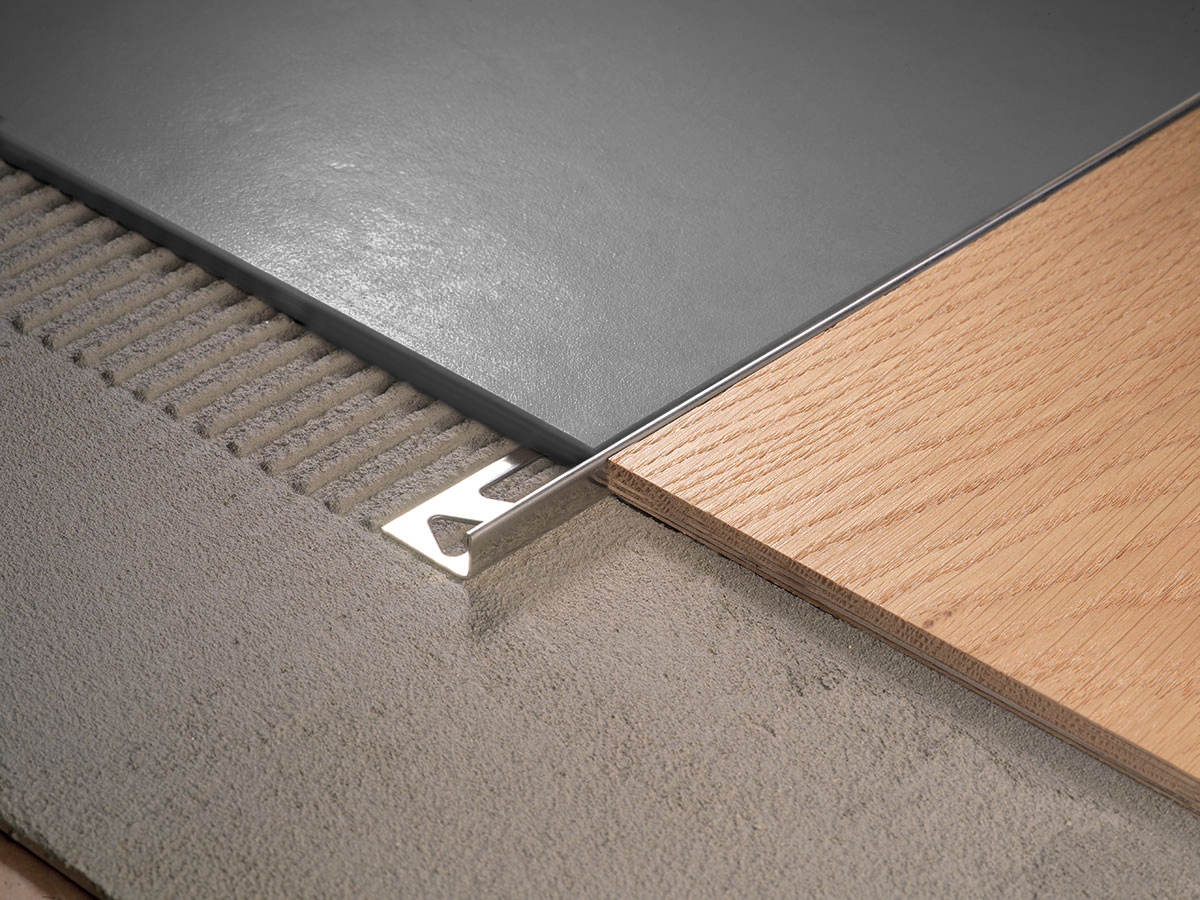 The importance of connecting wood and ceramic with a profile helps to solve unpleasant problems, for example the occurrence of cracks in the floor due to the different behaviors of the two materials and therefore their thermal expansion. In addition, the profile helps to hide any
cutting imperfections between the parquet floorboard and the tile.
Use separation profiles for several floors in the same room
Separation profiles make it possible to create continuity between floors at the same height, whether they are made of the same material or they are of a different nature. The profile separates the two floors and remains them level with them.
The photo depicts the project completed by our customer, Supertech, using the Linetec AD14ON profile
How to make the floor profile invisible in an open space
In addition to their technical function, separation profiles also play an important aesthetic role.
Due to the fact that the profile inserted between the two floors does not protrude, it blends with the environment.
To make it invisible by making it blend in with the floor, we recommend the use of Trimtec TR in steel with a very discreet visible thickness. The shape of the steel profile is much thinner than aluminum and brass, due to the different profiling process.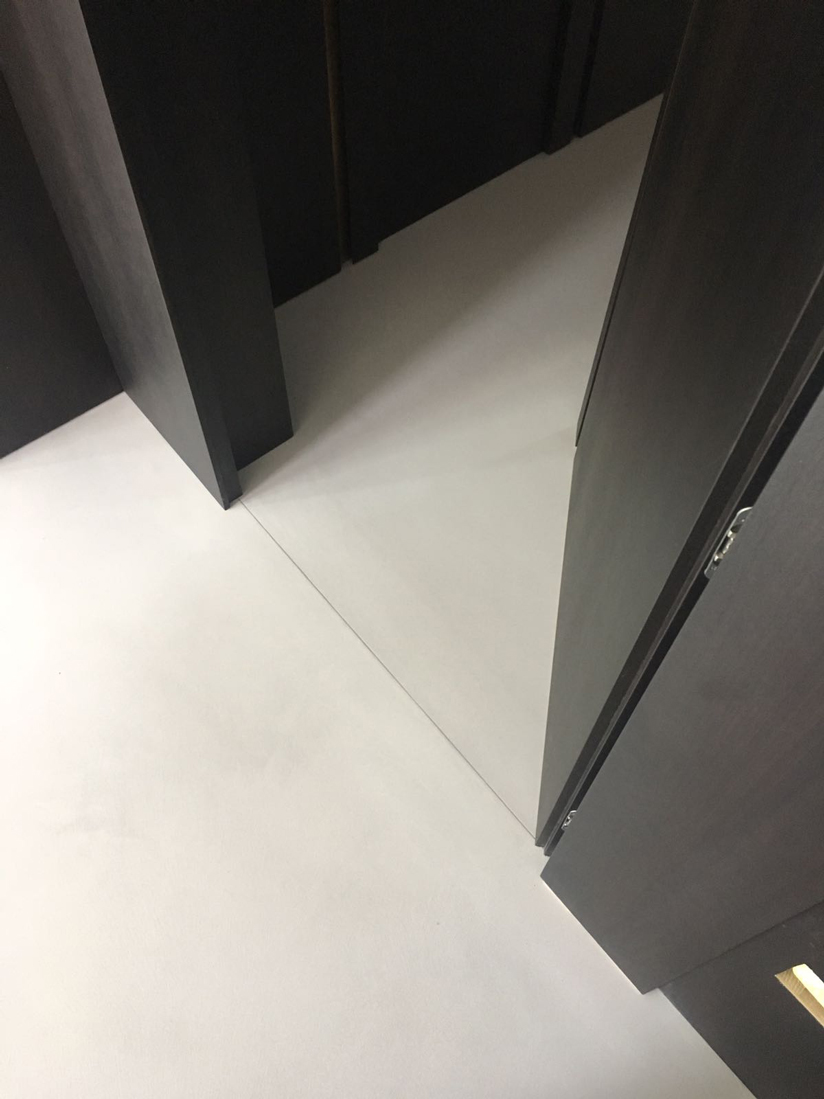 The picture shows an installation performed by our customer P.Z. Resins: Trimtec TR in AISI 316 stainless steel, profile height 3 mm, was used with a resin floor.
We notice how the profile is practically invisible in this application. So the question arises ... but then why we need to place the profile?
These are critical points where floor continuity cannot be guaranteed. The use of the profile has two functions:
Profiles for Laminates and Carpeting to improve acoustics in workrooms and hotels
Noise reduction plays a very important role in certain situations, such as in an office or hotel room.
The most comfortable material from this point of view is undoubtedly carpeting. While it was much loved in the past, though not so much in Italy today, it is still very much popular in Northern Europe and especially in the American market.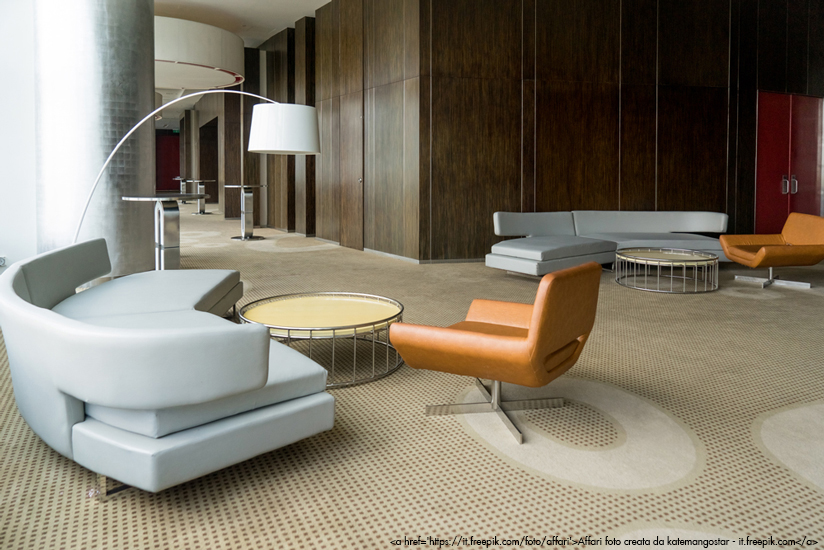 As then, carpeting is still widely used today, especially in commercial environments because it is the material with the highest performance in terms of noise reduction available on the market. Suffice it to say that it is also used on the wall in many hotels.
A second material used for sound insulation is laminate: in this case it does not reduce the noise caused by footfall as much as sound produced by propagation, leading to noise reduction. To ensure sound insulation, this material is often combined with a sound deadening mat.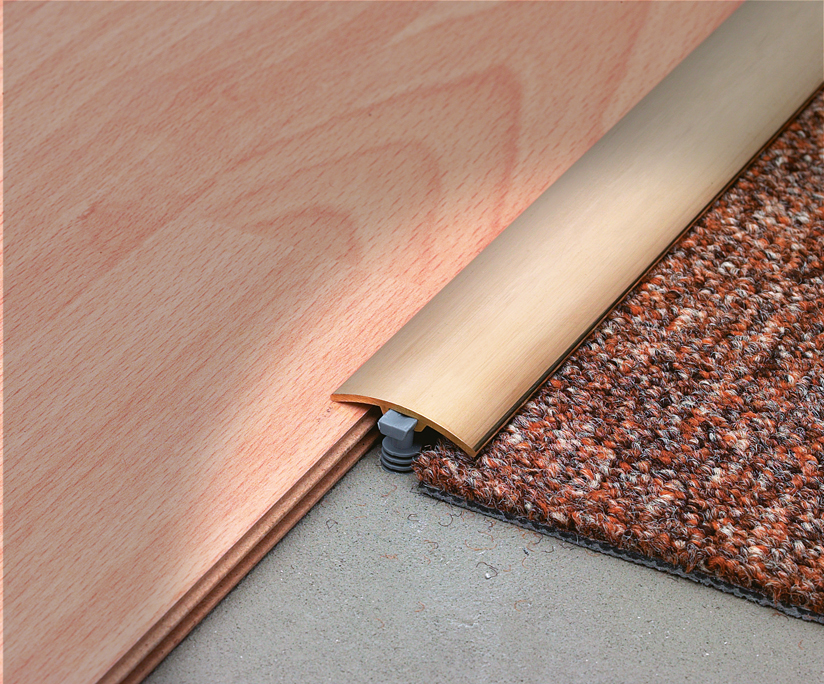 Very often these two materials are installed together. For joining a carpet floor with a laminate floor, we recommend the use of the Multifix profiles which are easy to use in do-it-yourself installations and available in different wood-effect finishes, to allow the choice of a color that is closer to the laminate floor. In the case of connection after installation for floors at different levels, we offer the following range of products Striptec ST which compensate for differences in height up to a maximum of 5 mm.
In this article we saw how choosing the right joint profile can make a difference. Do you have any doubts or a particular issue to resolve? Write to us and we will be happy to help you!
Have you completed a project using our profiles? Write to us to find out how to have it featured!
Base, aluminum profile
Clip made of resinil assembled by interlocking within the base
Cover, coverage profile

Noise abatement: it helps in reducing footfall noise
Higher resistance to water and humidity, which makes it easier to clean
Less sensitive to temperature changes

Feeling: wood offers warmth and makes you feel at home, the feeling of walking on it barefoot can't be compared to any other type of flooring.
Looks: whether parquet laid in planks or herringbone for that vintage touch, wood brings a unique mood to the room
Value: Wood floors have always been a more luxurious choice because they are a more high-end offering.

it is very sensitive to water, humidity and aggressive detergents, therefore it is not suitable for environments where continuous deep cleaning is required (bathrooms, kitchens for example)
it is sensitive to temperature changes, for this very reason it is defined as a "living" material because over time it is subject to movements due to normal thermal expansion
it is sensitive to direct exposure to sunlight (we can see how balconies or windows of yesteryear require a constant maintenance)

a warm material must be connected with a cold material
the two shades are often opposite each other

Technical function: it allows the two areas to work, following the normal thermal expansion, even more so with the presence of two separate underfloor heating systems.
Aesthetic function: in this case the customer needed to hide the profile. Trimtec TR allowed him to perform the desired installation, thanks to the very thin thickness of the profile head.
Comments
There is no comment
The modern clothes hanger thats suits every bathroom
Corner profiles and corner edges for tiles, unique installation solutions